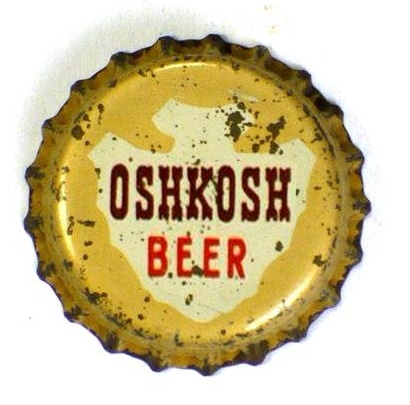 We're welcoming a lot of guests to Oshkosh this week for the EAA Fly-In. These folks need sustenance. These folks need beer! If you're new to our town, here's the lowdown and where to get your share of the good stuff during your stay with us.
Brewpubs
That shouldn't be plural, we have just one brewpub here.
Fratellos Waterfront Brewery & Restaurant at 1501 Arboretum Dr.
is the home of Fox River Brewing Company. Established in 1995, the current brewmaster is Kevin Bowen, who over the past few years has won two World Beer Cup Awards for his brews.
Here's the list
showing what their current line-up looks like. The restaurant side at Fratellos is a several cuts above your typical pub fare with a large and varied menu.
Beer Bars
As you make your way around Oshkosh, you'll notice there's no shortage of bars. This has always been the case here (even during Prohibition!). Most of our "corner bars" have at least one or two craft beers available – New Glarus Spotted Cow being the most common. But there are three Oshkosh bars in particular that have made a point of emphasizing good beer and offering a wide variety of it.
Oblio's Lounge
434 N. Main St
.
The craft beer revolution in Oshkosh began at Oblio's Lounge in the mid-1980s. They haven't let up a bit. With 27 beers on tap, there's always an abundance of choice brews on hand. Located within a beautifully restored building, Oblio's is also
one of Oshkosh's most historic taverns
. Good beer has been pouring from this spot since 1885.
O'Marro's Public House
2211 Oregon St.
Just a couple blocks east of Wittman Regional Airport, you'll find the celebrated O'Marro's Public House. Shawn and Brandy O'Marro maintain 19 tap lines and almost all of them are dedicated to craft beer. If none of those suit you, their bottle list is the best in town, with well over 100 rare and unique beers available.
Peabody's Ale House
544 N. Main St.
Peabody's Ale House has been pouring craft beer for years. The bar features 13 draught lines inside and a couple more outside in their Sideyard, an excellent urban beer garden. Their varied selection usually includes a number of choices from nearby breweries such as Central Waters and O'so and is backed-up by a good-sized bottle list.
Bar / Restaurants
These three Oshkosh restaurants also double as bars. They each feature full bars that are ideal spots for enjoying a few pints.
Becket's Restaurant
2 Jackson St.
At the heart of this modern restaurant is a long sleek, bar where 15 taps are in flow. All of those draught lines are given over to craft beer and cider and they do a great job of keeping the list interesting. With a view of the river and a patio on the river, this is an ideal setting to whet your appetite with a few pints as prelude to a terrific meal from the menu of award-winning chef Mike Buckarama.
Dublin's Irish Pub
2070 W. 9th Ave.
This place will warm the heart of any beer geek. Dublin's 30 tap lines feature an excellent cross section of quality ales and lagers, many of which you'll rarely find elsewhere. They'll also fill growlers with beer drawn from their taps. The food is also excellent with a menu that features Irish pub fare
Gardina's Wine Bar and Cafe
448 N. Main St.
Don't let the name fool you, they're plenty wise to beer at Gardina's. The emphasis here is often on rare and hard to find beer. With a bank of 12 tap handles, all of it craft and most of it high-end craft, you're certain to find a beer or two you've been wanting to try. The food is of a similarly high quality. Oh, and as the name suggests, they have plenty of quality wine; in case you happen to have one of those folks in your crowd.
Shopping for Beer in Oshkosh
People from out of state are often surprised to see that beer is sold virtually everywhere here. Gas stations, drug stores, grocery stores, coffee shops... if you can't find beer, you're not looking. That said, if you're on the hunt for something better than macro beer, there are four primary outlets.
Festival Foods
2415 Westowne Ave.
This grocery store has a separate liquor department offering the largest selection of craft beer in town. A good selection of Wisconsin craft beer is backed by a fairly typical selection from well-known national craft brewers. They also feature several shelves of bombers. Festival has a decent, if not exactly inspiring, selection.
Gardina's Wine Bar and Cafe
448 N. Main St.
Yes, they also have a store at Gardina's. Located in the rear of the building, the retail beer section here is far and away the best spot in Oshkosh when you're looking for something special. A nice cross section of elusive Belgian and American craft beers are offered with no space given over to pedestrian brews. You won't find many of the beers offered here anywhere else in the Fox Valley.
Pick 'n Save
Stores
North Side:
1900 Jackson St.
South Side:
1940 S Koeller St.
With two stores, Pick 'n Save is convenient, but nothing to write home about. A fairly typical selection of craft beer, these places will do in a pinch. That's about the best I can say about these guys.
For a city of its size, Oshkosh is great beer town with
a long and hallowed history of beer and brewing
. Make yourself at home and have a great time while you're here. Prost!